What a Boat Enthusiast Had to Say About Sperry
It's been said that once the sea casts its spell, it will hold one in its net of wonder forever. And for my husband that is the truth. Growing up in Muskoka, he spent many hours cruising the vast system of lakes by boat. It's safe to say that if he isn't in the water, he prefers to be on it. When his birthday rolled around this year, I gifted him a pair of Sperry Top-Sider Authentic Original boat shoes, similar to a pair he wore in his younger years. For a boat enthusiast I knew these iconic shoes would be the perfect fit!
What I loved about these shoes was their versatility — the leather moccasin-style loafer is casual for everyday wear but can be dressed up for more formal functions. This sock-free option would be a great addition to his summer wardrobe outside of the usual line-up of sandals. Whether he's in shorts and a t-shirt, or chinos and collared shirt, these shoes will instantly add style.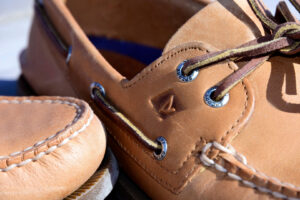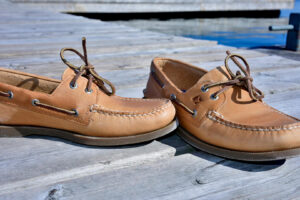 I waited with anticipation as he opened the box. To my surprise his first reaction was to flip the shoes over. "See the rippled, rubber sole?" he started, "this provides grip when you're walking around slippery surfaces. Unlike regular soles, the rubber doesn't leave scuff marks and because the sole doesn't have deep groves it doesn't pick up sand or rocks that can damage your carpet and hull." Sure enough the words "Non-Marking" were imprinted right there on the sole. He continued, "Usually a boat is a no-shoes zone but I can hop in and out with these, and the best part is I won't burn my feet on the hot deck!"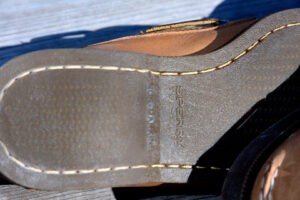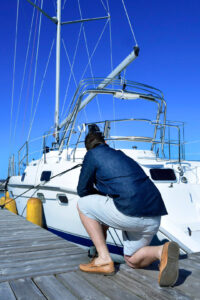 And here I thought they were called boat shoes because the leather lacing around the top looks like woven boat rope. In fact, the leather lacing also had purpose beyond its nautical style.
"The laces run around the entire top of the shoe so you can tighten them around your foot. They're leather so the knot will stay tight even when wet. Usually I like the flexibility of slipping the shoe on and off quickly but it's a great feature when you're moving around the boat and want a more secure fit," he added.  I'm beginning to see why the Sperry Top-Sider earned its place as the official summer boat shoe. Next I asked him how they fit.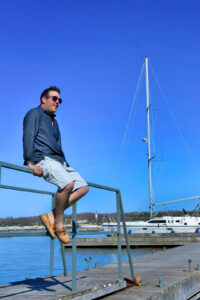 "I'm surprised how lightweight they are; they feel like slippers. The rubber sole puts some bounce in my step and the insole has a comfortable, high arch for support. I don't think I'll have to break these in, they feel comfortable right out of the box." Relieved that they fit, I think back to purchasing these shoes at Becker Shoes where the sales person reassured me that Sperry fits true to size. She also told me that the treated leather and anodized eyelets can withstand multiple soakings without needing much care. While you can apply a shoe polish to restore the original lustre, these shoes also look great with a little wear. I was worried that they might feel stiff but within hours of wearing them I could see the leather starting to soften.

Later at the marina my husband dipped his new shoes in the water and began to shuffle across the deck to test the grip. While he loves the classic styling of these shoes I could see that he's drawn to the fact that they have purpose. Watching him splash around like a kid made me regret not getting a pair for myself. That week I was back at Becker Shoes to try on some women's styles!